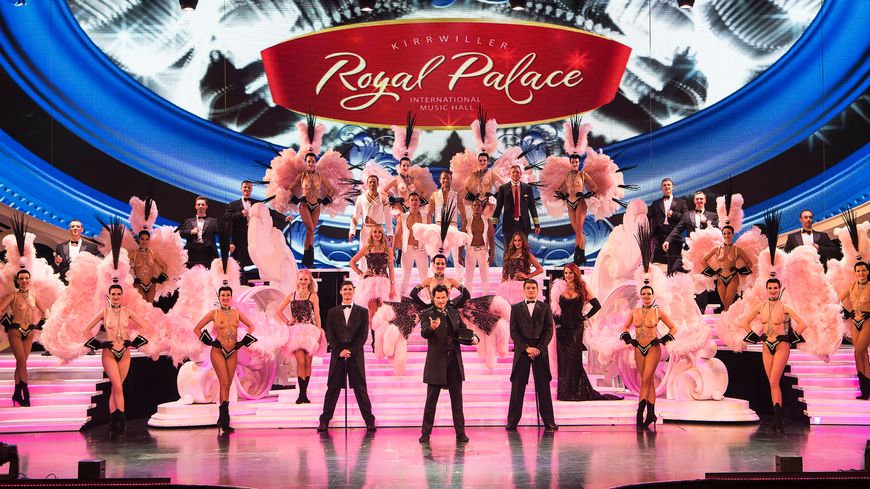 Transfer to the Royal Palace Music Hall of Kirrwiller (round trip)
180.00€ Business Sedan (1-3 passengers)
234.00€ Business Van (1-8 passengers)
Important !
Reservation required 24 hours in advance. For all urgent trips, contact us by phone on +33 (0)6 52 17 44 11, 7 days a week, 24 hours a day.
Transfer to the Royal Palace Music-Hall of Kirrwiller
In this transportation package, we take you into the world of Royal Palace Music-Hall. Located in Kirrwiller, it is one of the most beautiful cabaret shows in France, with a luxurious and magical atmosphere.
Meals, drinks, and entrance fees (unless otherwise stated) are not included in the price.
Departure will be from Strasbourg, and we will return at the time chosen by the client. The transfer includes 1 to 8 people.
Meals, drinks, and entrance fees are not included in the price. For reservations of entrance and meals, please book using the link below: Billetterie Music Hall
Learn More About the Tour
Discover our transfer service to the Royal Palace in Kirrwiller. Enjoy a comfortable and journey to this prestigious destination. Book now and experience an unforgettable adventure.
Travel with peace of mind in our modern and well-maintained vehicles. Our experienced private drivers ensure your safety while you relax. From the beginning of your journey, your comfort is our priority.
The Royal Palace in Kirrwiller promises unique moments. Breathtaking shows, a magical atmosphere, and delightful cuisine await you. With our transfer service, forget about parking and navigation concerns. Fully immerse yourself in the experience with our private drivers.
Book your private transfer now and let us take care of you. Our reliable and punctual service is tailored to your needs. Make your visit a memorable one by choosing our professional service.
Contact us today for a comfortable journey to the Royal Palace in Kirrwiller. Get ready to embark on an extraordinary experience. We look forward to welcoming you and providing a hassle-free service to this prestigious destination.
Transfer to Royal Palace Music-Hall in Kirrwiller
TOP 10 things to do in Alsace
1. Visit Haut-Koenigsbourg Castle: Explore this restored medieval castle and enjoy panoramic views of the surrounding region.
2. Taste Alsace wines: Venture into the picturesque vineyards of the region and indulge in the famous Alsatian white wines.
3. Explore the Alsace Wine Route: Travel along this scenic route and discover charming wine villages and wine cellars.
4. Visit Strasbourg Cathedral: Admire the Gothic architecture of this iconic cathedral and climb to the observation platform.
5. Stroll through Petite France in Strasbourg: Wander through this picturesque neighborhood with its half-timbered houses.
6. Explore the city of Colmar: Discover the canals of "Little Venice".
7. Discover the Northern Vosges Regional Nature Park: Explore this preserved natural park, hike through picturesque landscapes.
8. Visit the Unterlinden Museum in Colmar: Admire the famous Isenheim Altarpiece and explore the art and history collections of this renowned museum.
9. Take a cruise on the Rhine: Enjoy a panoramic cruise on the Rhine River, discover picturesque landscapes, and see the castles along the way.
10. Taste Alsatian cuisine: Don't miss the opportunity to savor the culinary specialties of Alsace..
These activities will allow you to experience the best of Alsace, from its rich cultural heritage to its picturesque landscapes and delicious gastronomy.